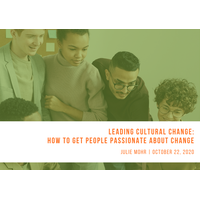 Join this FREE interactive event on October 22, "Leading Cultural Change: How to Get People Passionate About Change" where we will discuss leading effectively through disruptive times with Julie Mohr, Author and International Keynote Speaker.
Creating the right culture to sustain your desired outcome is where effective leadership comes in. Julie will break down how to lead your organization through change and how to create the right culture to sustain the desired results from disruptive events or technologies.
If you don't know Julie, she introduces herself and speaks about the disruption economy in this video. https://www.julielmohr.com/wp-content/uploads/Videos/Speakers-Video.mp4 This will whet your appetite for a deeper dive into this topic.
---
Leading Cultural Change: How to Get People Passionate About Change
Date/Time: Thursday, October 22 2020 – 11:30 am to 1:00 pm PDT
Don't miss out - Register now – FREE for members and non-members

https://www.sfhdi.org/events/leading-cultural-change
---
Thanks to the West Coast HDI Local Chapters joining together for this virtual event
San Francisco Bay Area (meeting host)
Los Angeles | Sacramento | Oregon/SW Washington | Seattle
---