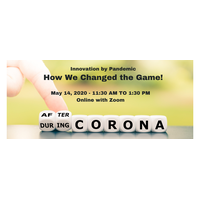 HDI West Coast Chapters Unite! - Bringing together the HDI Community even closer during this COVID-19 pandemic with our Virtual Monthly Meetings.
Please join us virtually on May 14 to discuss "Innovation by Pandemic, How We Changed the Game!" with Customer Experience Visionary and long time veteran of the Service and Support industry, Brandon Caudle. https://www.linkedin.com/in/brandoncaudle/
Date/Time: Thursday, May 14, 2020 – 11:30 am to 1:30 pm.
Zoom link will be sent out to registered attendees the day before
Don't miss out - Register now - FREE for members and non-members
Other Chapter Members use code "HDILocalMember"
https://www.sfhdi.org/events/innovation-by-pandemic-how-we-changed-the-game
San Francisco Bay Area (meeting host)
Los Angeles | Orange County | Sacramento | Seattle | Portland
---